The Foundations of Digital Marketing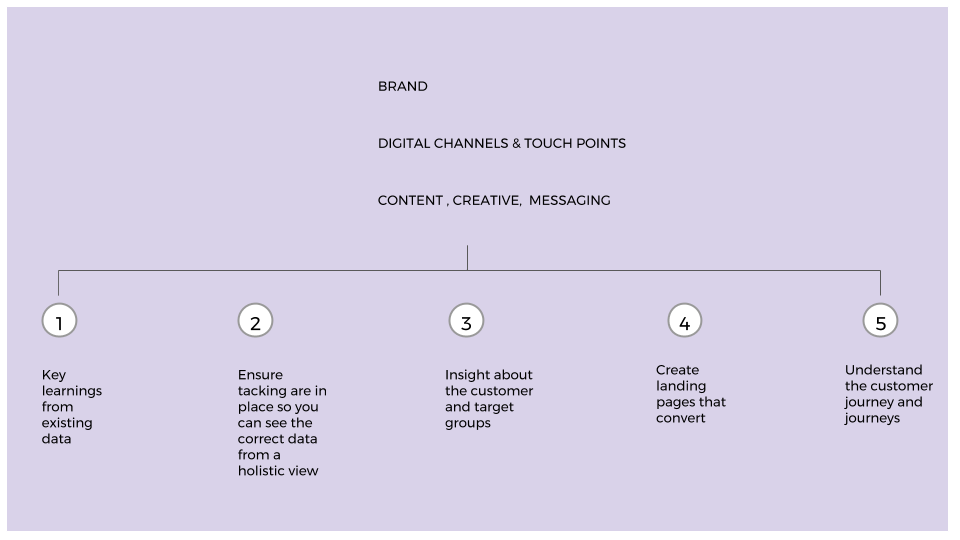 Either it be a new job or a new client. This is the fool-proof process I put in place to get the initial understanding to build a foundation for digital marketing and communication.
[line]
Look at existing data and set-up
Ensure you have the tracking in place to measure both goals and events
If you don't have the proper tracking in place, you will never be able to evaluate performance nor highlight the results your work have generated. Always ensure that there is tracking

in place and most importantly that it actually works. If there is – great – then there is the next challenge and that is event tracking beyond the last KPI which is often conversion or lead. Identify key pages in the customer journey and make your KPI framework reflect this.
Get insight about the target groups
If you don't know who your customers are, their interest, driving forces, pain points and so forth. Then is hard to craft compelling and useful content, find the right marketing messages and start building that customer relationship that sets your company apart from all other companies offering the same product. Investing in getting the customer insight you need will pay off.
Ensure you have a campaign landing page for bought media
It doesn't matter how much money you invest – or throw away – on bought media if you don't invest in a landing page that is streamlined, to the point, de-cluttered and easy to convert on.
Make an "open" customer journey
Identify key pages in the customer journey and ensure you have the right content, messaging and also event tracking and KPI's to follow the customers and work actively and regularly with improving the customer journey and experience in all your digital touchpoints.
These are however just the mechanics and the foundation – on top of this you need to ensure that you have something to say and that your company is using content, the right social media platforms where the target groups are. But once you've done this – you have the right foundation for starting the work with the really fun stuff as the creative and marketing 🙂