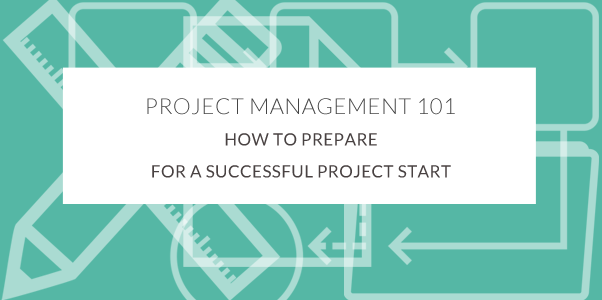 How to prepare for a successful project start
This post is written for anyone who wants to start project operations from scratch and focusses on four basic pillars that is helpful to have in place before you start taking on work, i.g projects. This article is particularly useful for anyone within the digital service and delivery area (Design, copy, web, software, marketing etc).
If you haven't seen my post on my philosophy on project management, it can be a good start, before heading further in on my project management series, so you get a better understanding of the perspective I'm sharing from.
---

1. Understand how you work – define your process & why it's valuable
Many freelancers and agencies have stated in short how they work on their website. This is a great way to get your potential client to understand how you work and get a gist of and if you two are a good fit for each other. Have a think about what workflow you need inhouse as well with the client, in order to perform and deliver your best work.
Questions to ask yourself:
What information do we need from the client for the work we are delivering? Craft a questionnaire which can be a foundation for a creative brief. If you deliver different services and solutions, do this for each service you provide.
What happens after you have obtained all the information you need? do you have different phases? if so – define them and the value of each phase for the project/client?
Do you offer reviews before final delivery?
How far does your process stretch?
What happens when you deliver? how do you usually deliver? when do you invoice? do you offer support? etc.
TIP: For your website you can strip your process down to it's simplest form, with any common denominators you can find and try to visualize this if possible.
Now – try to map out the journey within your company – and do the same as above but with an internal focus:
What information does your team need to be able to do their best work?
What tools do you and your team need? how and when do you use them?
How do you conduct meetings and follow-ups?
Do you have a checklist – if so where?
What is the most effective flow for the work, as you can see it now? (could and should be assessed and improved as you go along)
How do you save files? create guidelines for the team to follow to avoid that your server become a time and motivational draining black hole!
Do you create any documentation on the service and solutions you offer?
How do you deliver your final product?
Will you evaluate the project? if so when and how?

2. Get relevant documentation templates set-up and in order
Create templates for the most common documents that you will need. Having an template with headings set-up saves time and will enable you to hit the ground running when the work comes your way.
NOTE: that all of these documents may not be relevant to you. Pick and choose and add your own to the list.
Client questionnaire (for website and as a editable pdf/word doc)
Process outline
Proposal/agreement
Your rate card
Project plan
Time plan
Action list/checklist/tasklist
Invoice
Meeting minutes
Project report
Presentation outline
Evaluation form – internal and for client
Any other documentation templates relating to your product/service

3. Get your tools in place
Get whatever tools you need in place, everyone should have log-ins etc set-up and ready. (Software, Google Drive, DropBox, email etc). I'm still amazed that these type of simple tasks are not done prior to a new project start. Hence the mention.
For easy tracking of projects, I advice you get a system for your projects where you assign each of them a number. Track time spent on each project in some way. Either the old fashion way in a spreadsheet or by using some kind of time tracking tool. (see list below)

4. Get your folder structure in place
Decide how you should organize your company files on your server. Get guidelines and have someone be the single point of creating these folders (usually the project manager) and follow the structure to save time, avoid confusion etc. A common way to start is to create a folder for each client, then; a folder for each project with corresponding project number (use this on invoices etc) and then follow-up with relevant  sub folders.
---
Free tools:
Google Drive Great for sharing documentation, action/checklists etc that your team can access and update.
Paid for tools
Basecamp Create and share action lists/checklist (and more)
Studiometry Track time spent on projects, create invoices etc.
DropBox For your files, delivery etc.
Timely Plan your time, rather then track it. Timely turns time reporting the other way around – plan your time instead of report it. (I haven't tried this but I'd like to, I like the concept!)
---
Illustration credits to the noun project as follows: Document by Maximilian Becker, Folder by Sergio Calcara, Tools by Lauren Gray.