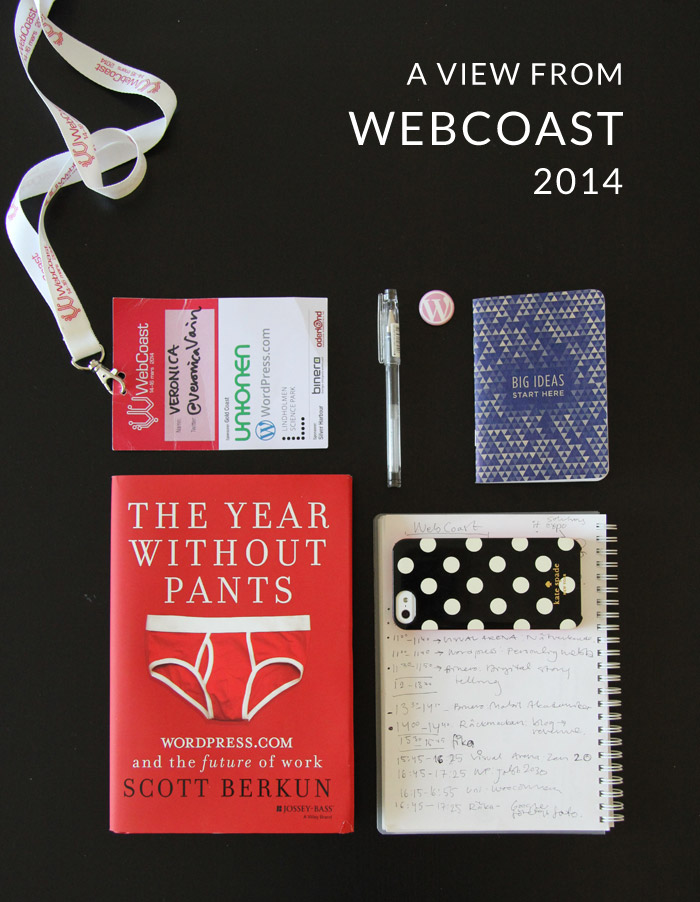 A view from WebCoast 2014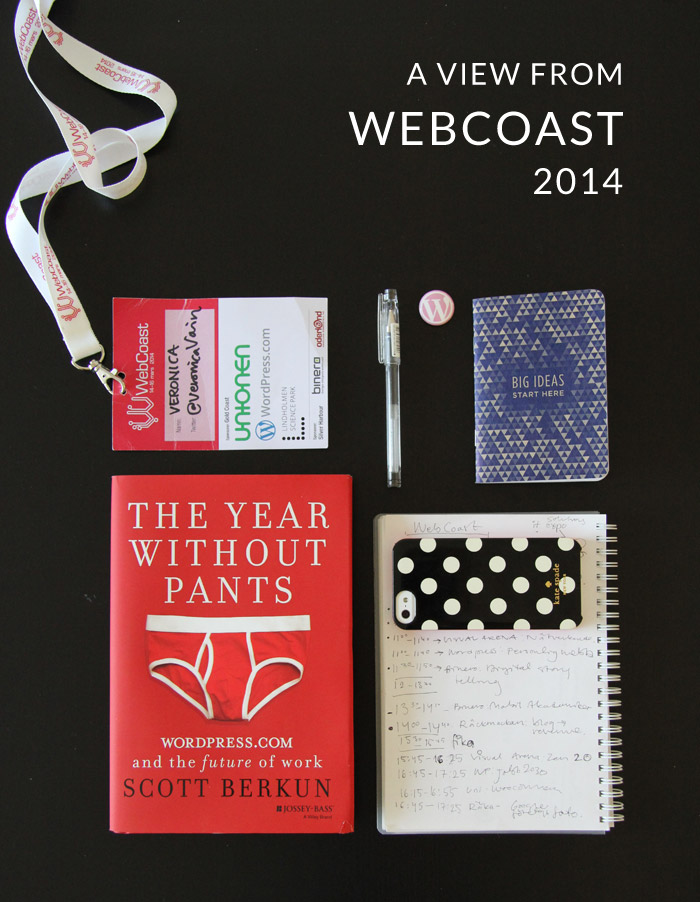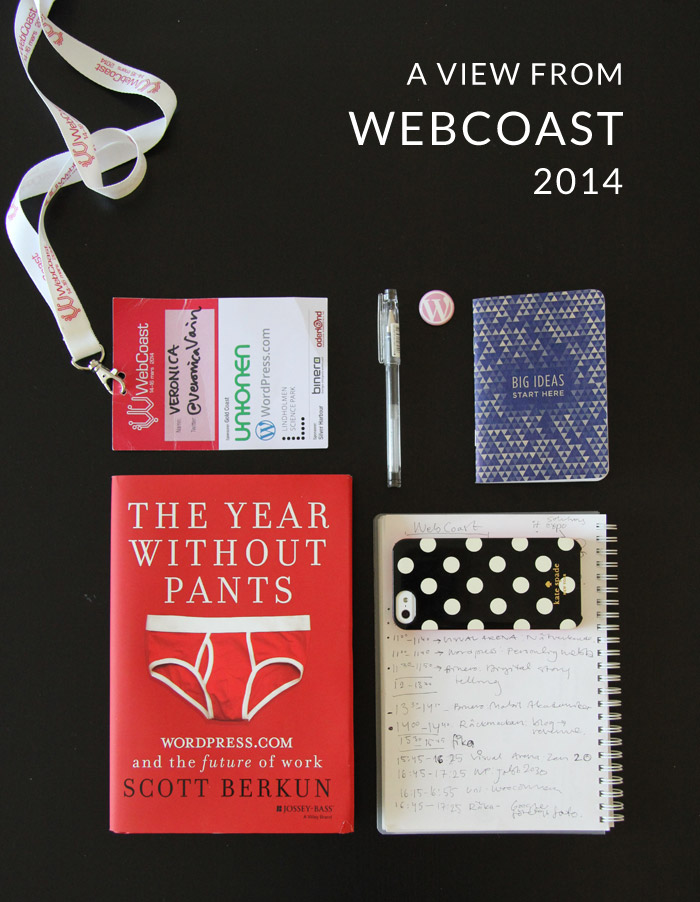 WebCoast is an annual event for people who love and/or work with the internet. The fabulous thing about WebCoast is that it's an unconference, meaning it's created by the people who attend the event. That makes it really special.
Unfortunately I didn't have the opportunity to attend the entire three day event. However I was lucky enough to be able to attend a couple of hours on the Friday afternoon and the majority of the Saturday. These are my key takeaways from the sessions I attended on Saturday, as well why I think WebCoast and the whole unconference concept is such a great idea.
---
Everything about WordPress.com
A session from the company behind WordPress, Automattic, where they spoke about the differences between wordpress.org and wordpress.com. My key takeaway was to check out JetPack which enables you to get some of the nifty features from wordpress.com on your self-hosted install of WordPress. Such as enhanced distribution of your content.
Persona "Cash Course"
I listened and learned more about how to build personas around a specific product or service. How to aim at the source and how to use an inspirational way to visualize the personas using a infographic kind of style. Key takeaways was:
Understand your target audience (interest, needs, background, habits, technology)
What is interesting for the target audience with your product/service?
What pain points does the product/service ease for the target audience?
Once you have compiled your information, verify by interviewing your customers or conduct a survey online
One of the speakers offers free tools and templates on her website for doing this type of work (Swedish only)
Digital networking (Nätverkande digitalt)
Advice mixed with hands-on exercises where we got to engage with the people around us. That was an ice-breaker if any 🙂 . My key takeaways – before an event – ask yourself;
Why are you at the event? What is the purpose with your attendance?
Who do you want to meet? can you check out a list of attendance in advance? and make contact or any research?
If you are nervous of speaking to other people and initiating contact, try to find common ground over coffee or anything inside the event space that you can talk to the other attendees about, then take it from there.
Digital Story Telling
The key takeaways was:
That the personal stories are what really engages and captures other peoples attention.
When working with compiling and writing your story, set limitations in some way, i.e could be that it should fit on a A4 sheet of paper for example.
From blogger to  revenue manager
A business owner shared how he used his company blog to as a tool to deliver value to his customers by addressing their pain points in his blog content and by doing so drive leads for his business. He shared the strategical work behind all this, the flow of his communication, the different digital channels which are more important and when in his customers path to purchase. Interesting and inspiring. They should have an extra applaud for being able to switch and find another room, hold the presentation even though the technical stuff didn't work in the new room.
Zentreprenör 2.0
A group session, where we all pitched in with our worries and advice on how to reduce and handle stress in our daily lives. Followed by trying some yin-yoga together. I left feeling refreshed and happy because I got to listen to other people sharing their experiences on this subject which was somewhat comforting to me.  The shared advice included:
Switch your phone to flight mode
Have email checkpoints throughout the week. Keep them.
Make a done list
As a manager, create a to-do list with the following categories; necessary, desirable and delegate (delegate should be the largest on your list)
A quote that I will carry with me, and do some more research on to really get any stats etc on is that "no implementation of change works without time to reflect". I find that to be true.
Work 2030
Group session where we imagined and brainstormed around our work-life in 2030, how our day would start, what the world around us would look like and be, by the year 2030. I hope for the future that the signs I detect, both on and offline, a kind of a slow awakening in the human consciousness in regards to the earth and it's inhabitants, will continue. I see a change in peoples choices and mindset.
---
My favorite things about WebCoast are:
The people, the community. The journey people are on, their stories from their current location. That makes the knowledge everyone has to share so much easier to assimilate as well as their stories exiting to hear.
Everyone is allowed to hold a session – with that you get a mix of experiences and levels from which you can obtain knowledge.
You don't need to be an expert to hold a session, you can share your perspective and experiences from the place you are at, at the moment.
That there are loads of women. From my years working in UK, I was always one of very few women attending any digital events. I wish I had more time to talk to all the fabulous women which I met. I want to know more like minded, and different minded females!
The passion. The creativity.
The spirit. Open, friendly and so beautiful and authentic.
On the minus side was the food this year, when you run around, talk to people and try to assimilate new insights, your body and brain requires fuel. Unfortunately it was the typical and oh-so-common scenario, my food was reduced, i.e the diary products and dishes with diary and or meat where removed and nothing replaced what was removed so to speak – to make the dishes vegan.
I'd love whipped soy cream on my dessert, or vanilla soy custard (it's a very low cost to buy and you can buy it anywhere). Or to be able to eat the green salad that was offered with my food, or a cold sauce to break up my meal. It doesn't take much time, nor cost any more money – to do the options that contain meat and diary – free from these ingredients.
---
Looking back, this is what I thought about WebCoast when I was first there, back in 2012.