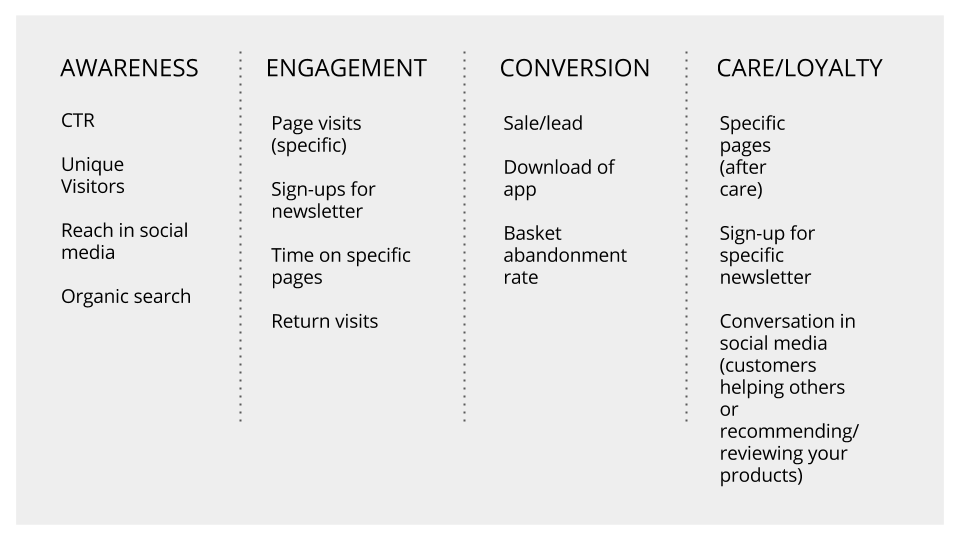 How to create a KPi framework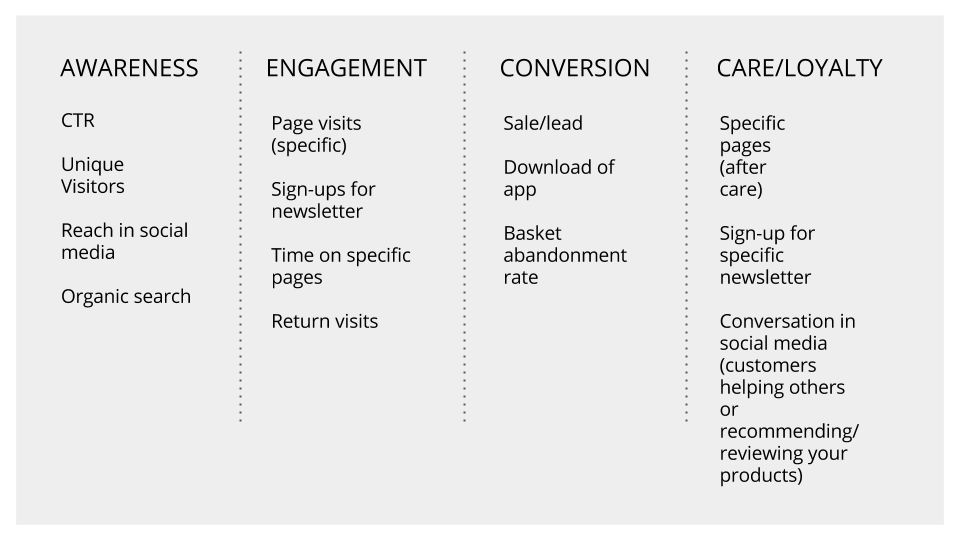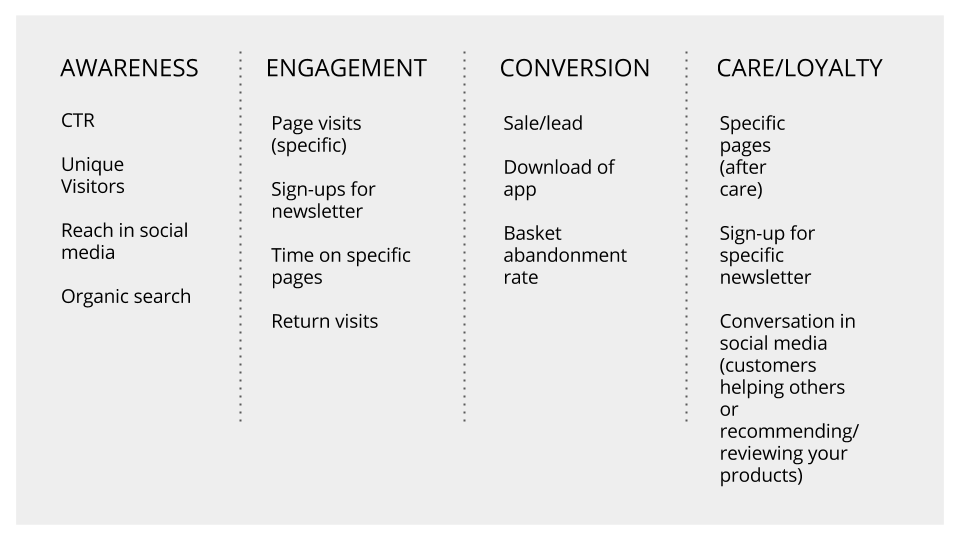 The key to knowing if you are investing in the right marketing activities and have a website that works for your business is to set your purpose and goals and have your customers pain points/needs and journey (as in path to purchase and beyond it) well defined.
Once you have established what your end goal with your maketing activities is (eg sale, lead etc) you can create a simple KPI framework that will help you understand if your website needs improving to investing and evaluating marketing activities which should follow the flow of the different states.
You will find weak points and be able to improve upon:
content
improve SEO
landing pages
conversions
marketing activities and material
A quick and simple way to do this is to use the following three areas:
Awareness
Engagement
Conversion
Loyalty/after care
See this as a framework to defining the most important questions you want answered on a regular basis and important enough to be monitored. The benefit of looking holistically and mapping this against your customers path to purchase, (eg. see, think, do and care – or any other preferred model) is that you look beyond the end goal of just generating sales.
In order to be able to improve your entire customer journey and your marketing activities you need to understand the said journey to be able to build relevant content for each stage, that means you cannot only focus on generating sales as a KPI, in order to get to the end KPI, in this case a sale.
Then you add KPI's that corresponds with each area. For example:
Awareness: CTR in bought media, unique visitors, search on specific keywords such as your business name, reach in social media
Engagement: page visits (specific pages for this), sign-ups for newsletter, follow on social media channels, online brand mentions, return visits, time on specific pages, (pre-purchase) search on your business name + product, bounce rate etc
Conversion: lead or sale generated (value, average order value, etc) download of an app, document download etc. ROAS (be sure to add any agency fees into this calculation)
Loyalty: return visits, page visits (specific pages for this such as customer service, after care instructions etc) This can also be follows and sign-ups that you can track from people who have purchased from you (however in this case exclude them from the engagement section)
Add a further layer to this, perform the exercise per target audience that you target and perform the exercise specifically for each target group if you have more then one segment or use:
New/potential customer
Existing customer
(or your target groups if applicable)
If you want a simple KPI framework template to help you get started, I've prepared one for you here.
Action points
This is what you need to do in order to achieve this. If you know your customer and your website fairly well, you will have a draft ready within a few hours which you can refine, build on or modify as you go along:
Identify your customer journey, map it out using a simple model that works for you (for example see, think, do and care is straightforward and easy to follow and corresponds well with the above model)
Choose 1-5 performance metrics to track for each step – which is the answer to your questions.
Track through a report or simple Google Analytics dashboard, or anyway that works for you
Evaluate, optimize and improve upon both your website, media investment and modify the KPI framework as you go along