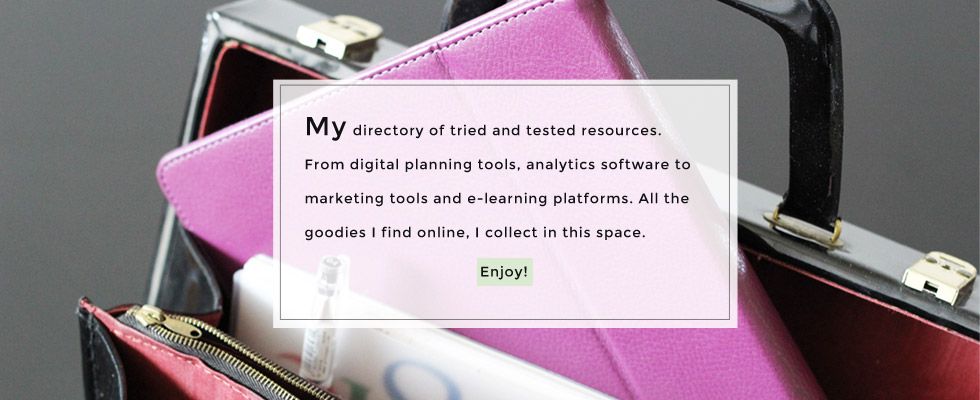 Are you looking for my templates and checklists? visit this page.
---
Customer Loyalty
The Customer Loyalty Playbook for 2017 – this playbook is a online playbook from Forrester of how to upgrade and enhance your customer loyalty program. Better yet if you don't have one already and want to create one. It cover everything from strategy to current landscape, to roadmaps which helps you take action. (You need to purchase this)
---
Stay up to date on the latest insights in digital
Google Insights – data driven insights on content, consumers,and brands.
Think with Google – an insightful newsletter withe the latest insights from Google (products, audience and more)
---
Digital insight & data tools (for research purposes)
Google Consumer Barometer – Find data and insights for behaviour, preferences etc from different markets.
Google Trends – insight from search
– Fashioning the online path to purchase
Shopping Insights (beta tool) – allows you to explore the popularity of products in cities across the U.S
---
Building professional looking content and online presence on a budget
Free photos – Death To The Stock Photo  
To find out what wordpress theme a blog/site is using 
Buy professional themes at Themeforest
Get beautiful icons – Noun Project
Free stock photos – Unsplash 
---
Insight tools
Buzzsumo – a content marketing insight tool that helps you find what content performs the best on any topic or for any competitor.
---
Design inspiration
6 design tips to radically transform your emails
---
 Publish your own digital magazines and books
Issuu – a platform for posting your publications
ejunkie – a shopping cart for your website
Adobe digital publishing suite – the software you need for magazines, apps etc
Sell your creative material online with Gumroad 
---
e-learning platforms
---
Mobile knowledge
ourmobileplanet.com – get statistics for your country, compare 2011 to 2012 data, to detect trends, opportunities and get to grips with mobile adaption in your country.
themobileplaybook.com – inspirational web-based playbook that will help you take your first steps towards a mobile marketing and adaption's of your marketing activities
---
Conversion rate optimisation and testing tools
Optimizely's optimization glossary
---
Web Analytics Tools
Google Analytics – track your websites performance and get insight for improvements
Enecto  – know what other companies are visiting your website and get insight to connect with them
WebForensics – know what other companies are visiting your website and get insight to connect with them
Adometry – attribution modelling tool
Dashbord tool – filter out the noise, view data from all relevant sources against your business KPI's
Event Tracking Code Generator for Google Analytics – create code to add to links etc to track events in Google Analytics (no coding skills required)
---
AdWords Tools
AdWords Keyword Tool – research keywords for your SEM strategy, etc
Google URL builder – track campaigns etc
AdWords Editor – batch change Google AdWords
---
SEO tools
Check your website loading speed 
Do an SEO audit of your website and get a list generated of improvements (free)
WordPress sitemap generator plugin 
Googles tool for testing how mobile friendly a website is
Googles tool for a quick technical SEO audit
---
Display advertising
Article by Google: Inside Google Marketing: Banner Ads Can Be Creative and Effective 
Google Display Ad Sizes Cheat Sheet 
Best Ad Size Revealed by Adroll
---
Free content resources